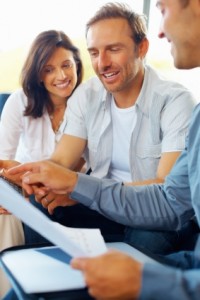 The process of buying a home is never simple. While it's true that it gets more complicated if you are a foreign citizen or an expat, you can still buy a home as long as your financial situation allows it. While this is not an exhaustive guide, it will help you obtain a bird's eye view of the process.
Visas You May Have or Need
The Australian government places no restrictions on who can apply for a mortgage in Australia, although you might be subject to FIRB approval (discussed below). Not all banks will lend out to all foreigners, but if you are in one of the following situations, chances are there is a bank or other lender willing to loan 80% of the property value (80%LVR). Regardless of your nationality, interest rates should be the same.
Expatriates – You are an Australian citizen and have the same opportunities, but need a bank who will work with foreign employers and government institutions.
Permanent Residents, New Zealand Citizens – You have virtually the same options as Australian citizens.
Overseas Citizens – You need FIRB approval, and limited to an 80 percent mortgage, 75 percent or less if you can't prove your income. You may have a spouse or partner living in Australia. If this is the case you may be eligible for more benefits such as a greater %LVR.
Work Visas – You need FIRB approval. If you've been in the country over 12 months, you might earn a 90 percent mortgage.
Temporary and Spouse Visas – If your spouse is a citizen or resident, you are typically treated like a citizen by lenders and don't need FIRB approval.
Proving Your Income
If you work in Australia proving your income is rarely a complication. The situation can get more complicated if a fair portion of your income comes from a foreign source. Not all lenders are willing to document this information as income. A mortgage broker can find you a lender who is comfortable working with foreign employers and governments.
Generally, if you have a payslip or tax return that is written in English, it isn't too difficult to find a bank willing to work with you. If not, you might have better luck working with a mortgage broker who specialises in foreign borrowers.
Not all countries require formal payslips. If this is your situation, a written letter from your employer will typically be enough. In this situation, you might be limited to an 80 percent mortgage.
FIRB Approval
Listed above are the types of borrowers who need approval from the Foreign Investment Review Board (FIRB). The purpose of FIRB is to ensure that all investment in Australian property from foreigners is beneficial to the country.
In most cases, FIRB is rarely a cause for concern, and they approve nearly all applications. If you are buying the home for your own use, there will be no complications. If you are an investor, you are not allowed to buy used property (unless it is to house employees), and you must develop any vacant land that you purchase.
It is a good idea to apply for FIRB approval as soon as you find a property. It typically takes about a month to receive approval. Waiting before applying for approval is risky as other people may be interested, so it is best to get this part of the process out of the way as soon as possible.
Getting Your Loan Pre-Approved
Before shopping for any property, it is a good idea to have your mortgage pre-approved. When good property shows up on the market, it doesn't last long, especially if the price is good. Pre-approval means that you can step in and buy the property as soon as possible, before somebody else has a chance to buy it.
Pre-approval also narrows down your search. You will only look at property that you know you can afford, without wasting your time on real estate outside of your budget. The last thing that you want to do is to bid for a home only to find out that there is no way you can afford to buy it. This can put you in very serious financial stress.
Applicable fees
In addition to the cost of the down payment, the principle, and the interest on the mortgage, there are additional fees you will need to be prepared for. In most cases, you should assume that the fees will cost about 5 percent of the value of the home. Fees include;
Do you have a married or defacto spouse living in Australia?
Loan establishment
Inspection of home
Taxes
Legal costs
Buyers agent costs
Miscellaneous costs
All About Currency
The value of currencies can fluctuate in comparison with one another. This is the reason why some banks are reluctant to lend to foreigners, especially if their primary source of income comes from outside of the country.
Foreign Currency mortgage – These loans are fairly rare and offer more risk to lenders. They are therefore usually awarded to people with high income. The currency risk is one of the reasons why foreign citizens and expatriates are often limited to an 80 percent mortgage.
Australian Dollar Mortgage – This is considered a lower risk since the value of an earner's income is not influenced by the economic situation outside of Australia. Those who are in the country on a work visa or who are living with an Australian Spouse or partner are best off choosing this option.
Your Deposit
The size of the deposit that you will need is partially dictated by your residency status, as was discussed above. Financial experts generally recommend making a 20 percentage property value deposit, since interest rates are lower and lender's insurance is not needed. This option is available to almost anybody with the income to buy a home.
People who have been employed in the country for over twelve months are more likely to qualify for a mortgage worth over 80 percent of the value of the property. This is the same for spouses and partners of Australian citizens.
Those who have this option might choose to take advantage of it if they plan to sell their home before paying off the entire mortgage, or if they simply don't have enough money saved up to pay off the down payment.
Legal Issues and Requirements
There are several legal codes that need to be met in addition to possible FIRB approval. The codes and requirements are different depending on your location in Australia. You will need a conveyancer who is licensed in the state where the property resides to ensure that there are no problems.
Have your conveyancer look over any contract that you sign. Don't sign the contract until you already have the mortgage formally approved. The only exception would be if there is a "cooling off period" stipulated in the contract.
This allows you to reverse the sale within a specific period of time. In most cases, if you agree to this you will need to pay a holding deposit of about $1,000, which you would lose if you were to back out of the purchase.
Professionals to Have on Your Side
Without the assistance of a few professionals it is virtually impossible for a buyer to purchase a home.
Conveyancer – Discussed above
Mortgage Broker - Since they are free in Australia, there is almost no reason not to work with a broker. You can focus all of your attention on finding the best broker for your needs, without worrying about their costs. As a foreigner or expat, you will likely want a broker who specialises in your situation.
Accountant - While not strictly necessary, they can help you save a great deal of money on tax. An accountant is especially helpful if you are an investor since they can help you set up a trust or company to hold your investments.
Buyer's Agent – If you are buying from overseas, you will need a buyer's agent to meet with real estate agents. Even if you are in Australia, a buyer's agent can help negotiate the best price on a home. Always make sure that they are licensed, reputable, and that they are not selling you property that they own themselves.
Apply for an Australian Mortgage Today!
Mortgage brokers can take much of the hassle out of purchasing a home! Mortgage Broker Australia has specialist brokers that can help with many types of foreign investment in Australian real estate and property.
Enquire online and make sure that you are approved for your loan the first time you apply.