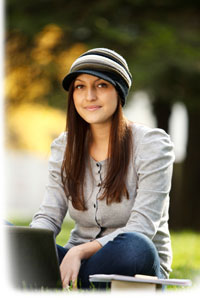 Overseas students coming to Australia need accommodation. Renting is of course one way to go however many students and their families purchase and own real estate or property instead. Why do they do this? Renting in Australia, especially in places like Sydney can be fairly expensive, often more than monthly mortgage repayments!
Buying a property such as student accommodation can also double as an investment for the future. Research well and you can make sure you get a good location and a good deal from a lender. This will give you a good investment that is likely to increase in value over the length of your studies.
Are students eligible?
Yes overseas students in Australia can apply for a mortgage in Australia!
Students can apply for a mortgage themselves or it may be better for the property to be purchased in their parent's, or other guarantor's name. These are questions that need to be answered on a case by case basis and professional help is definitely recommended.
What lenders want is proof of your ability to be able to pay back the loan. You can use your own income from a job in Australia, or yours jointly with that of your parents.
Mortgage Broker Australia often receives applications for international student mortgages. Student visas they can help with include;'
Student Visa (Subclass 572 – Vocational Education & Training)
Student Visa (Subclass 573 – Higher Education)
Student Visa (Subclass 574 – Postgraduate Research)
Student Visa (Subclass 575 – Non-Award)
Student Visa (Subclass 576 – AusAID / Defence
Enquire online to find out how you can find out the best deal for you.
How much can I borrow?
This refers to how much you can borrow relative to the purchase price of the property, and is listed as a percentage. Borrowing 80% of the purchase price means you will need savings of the remaining 20% plus fees such as stamp duty.
Mortgage Broker Australia works with lenders that allow international students to borrow up to 80% of the value of the property they are buying. Some lenders even offer discounted home loans. How much you can borrow can depend upon a number of factors. These include;
What type of property or accommodation you purchase. (see Student Accommodation below)
Whether the property is in your name or jointly owned with your parents.
Your employment income. Some lenders may also consider scholarship payments as income as long as they are paid regularly.
How long you have been in Australia, over twelve months and you are a temporary resident.
How long you intend to remain studying.
If you have a partner or spouse living in the country.
Many students do not have an income or earn very little. This means they cannot apply for a loan on their own. However in this situation you can still purchase a property! You need to go into joint ownership with your family, using their income to prove that you can afford the debt.
You may need approval from the Foreign investment Review board (FIRB).
As a student if you have been working in Australia for over twelve months you may be considered a temporary citizen. This means that you may not need FIRB approval. If your parents are on title (part owners) then you will need to have approval. You may also need to sell the property if and when you leave the country once you complete your studies.
How Can I Find Out More?
We have created this website to help foreign citizens purchase property so don't hesitate to read on! Please read through our section about buying while in Australia for more information.
Mortgages in Australia is a broad overview including information on different mortgage types and how much you can expect to borrow.
Enquire Online and Apply Today!
Mortgage Broker Online can help! If you would like to discuss your situation with one of our mortgage brokers then please enquire online and our specialist for international student mortgages will give you a call to discuss your options.